Click each component on the picture to get more info.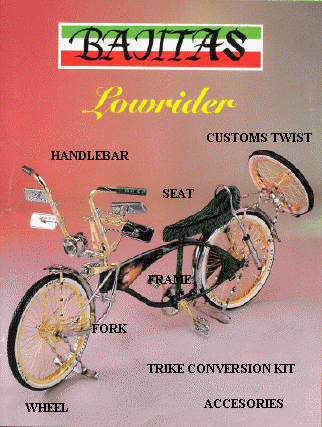 Bajitas Lowrider Bicycles, Parts & Accessories.
This site is for all the old school and the new upcoming Lowrider. Remember back in the 60's & 70's when you modified your old stingrays or chopper, will now you can suit up your bicycle in the new millennium fashion!! BAJITAS is will known & respected in the Lowrider industry. We are one of the leading Lowrider bicycle distribution centres nationwide. We carry all classic items such as classic Springer, old school flair fenders, & old krate shock sissy bar. But, now we have research and develop even crazier and out of your mind accessories for our new upcoming Lowrider. So, check out our site and keep on cruzin!!

Complete Lowrider Bicycles:
Click on the Item# and Price to get more info. and click on Back button to back to this page.
---